The HomeValet Smart Box requires a 115 V, 60 Hz, AC-only, 15-amp fused electrical supply with GFCI protection.
When determining how you will power your Smart Box, follow these guidelines:
The Smart Box power cord is equipped with a 3-prong (grounding) plug. Use only a GFCI-protected electrical outlet that accepts the grounding prong and meets all local codes for an outdoor outlet.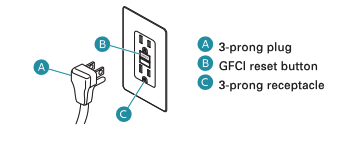 Do not

use an outlet that can be turned off with a switch or pull-chain.

Do not

remove the ground prong from the power cord plug.

Do not

use a GFCI adapter.

Do not

use an extension cord.
More information about GFCI outlets and why they're important can be found here.
Failure to abide by the above guidelines may void the Smart Box warranty and the homeowner assumes all liability for any damages that occur due to improper connection to the homeowner's electrical system.