HomeValet wants to keep you in the loop with everything that happens to your Smart Box and scheduled deliveries. We do that by sending you notifications on your smartphone via the HomeValet mobile app.
To choose what notifications you receive, open the HomeValet app, navigate to the 'Profile' page, scroll down to the 'Settings' section, tap 'Push Notifications,' and make your selections for each event type.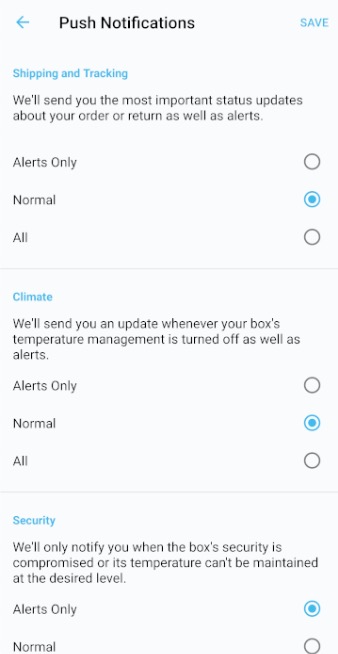 Note: The above screenshot is from our Android app. If you are using an iOS device, you will see sliders instead of radio buttons on this screen.
There are 3 distinct event types that can produce notifications from the HomeValet app:
Shipping and Tracking - order updates
Climate - changes to the temperature 'mode'
Security - events involving box or delivery safety
You can decide what events you'd like to be notified about for each of the above types:
Alerts Only - critical events, often requiring user intervention
Normal - all 'Alerts,' plus: delivery events, temperature mode changes, lid opens, and video notifications
All - all 'Alerts' and 'Normal' events, plus additional events as outlined in the table below
Here is a breakdown of all of the different HomeValet push notifications possible. Click on any of the notifications to learn more about how they are triggered.
Alerts Only
Normal
All
Shipping and Tracking

Plus:

All 'Alerts'
All 'Normal'

Climate

Plus:

All 'Alerts'
All 'Normal'

Plus:

Security

Plus:

All 'Alerts'
All 'Normal'

Plus:
If you are not receiving push notifications, double-check the chart above to ensure that you have enabled notifications for the relevant event types.
Click here for additional notification troubleshooting steps, or contact Customer Support for further assistance.